TEAM Lab Equipment: Vacuum Forming Machine
Overview of Vacuum Forming:
Our Formech 450DT thermoforming machine can produce high quality molds in minutes. These custom molds can be configured to various materials, patterns, and forms.
Vacuum forming is a process whereby sheets of thermoplastic are heated to their softening point (forming temperature), stretched over a single-surface mold, and held in place to cool via vacuum pressure. The resultant part conforms to the surface of the mold, but is generally uniformly thick. Parts generally need to be cut/trimmed from the bulk plastic thereafter.
Applications for this process consist of any design involving a complex shape of uniform thickness (polymer materials only). Specific examples include casting chambers, and orthotics, enclosures, dental components, and packaging.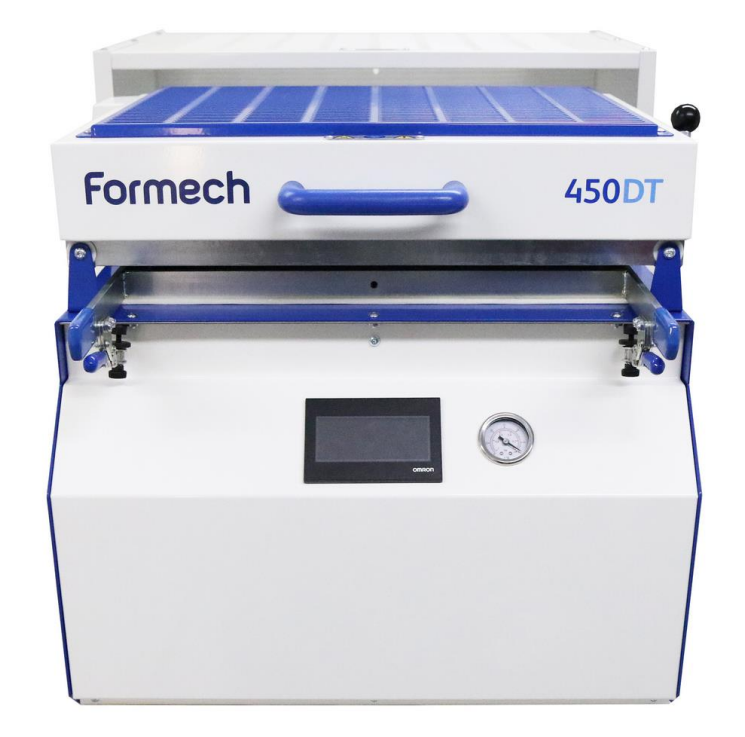 Figure 1: The TEAM lab has a Formech 450DT for Vacuum forming Needs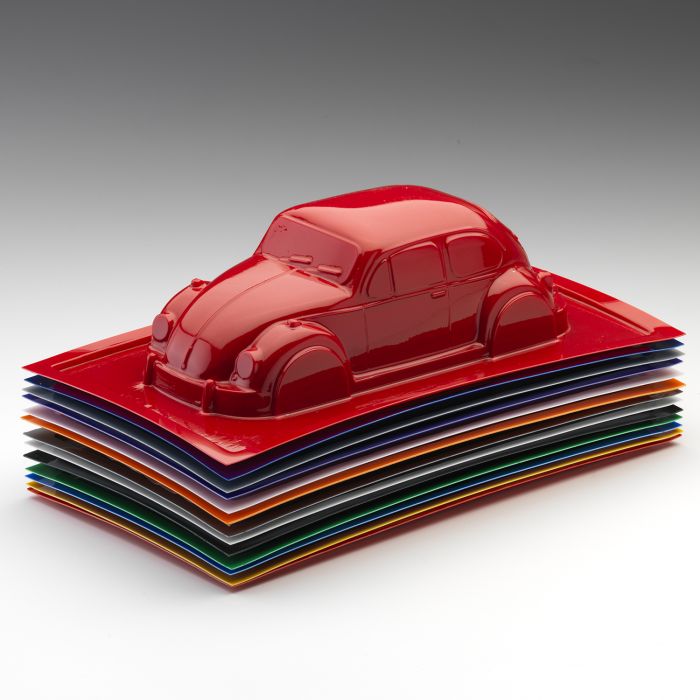 Figure 2: A stack of Vacuum-Formed Sheets (via Hindleys)
Materials:
All materials compatible with this process are thermoplastics. Common materials are listed below (descriptions from arnoldPlastics.com). Consult with TEAM lab manager for appropriate thicknesses.
HIPS - High Impact Polystyrene: Retail POS displays and counter top trays, available in a range of colors.
ABS - Acrylonitrile Butadiene Styrene: Industrial applications where durability is a key factor, ideal for covers, housings, disability aids and transit or storage trays.
PVC: High gloss surface, good impact strength. Ideal for hygienic cladding, air conditioning vents etc.
PP – Polypropylene: Extremely versatile plastic with uses for both retail and industry. Meets food handling guidelines and is corrosion resistant.
HDPE – High Density Polyethylene: Light weight dense plastic suitable for children's toys, street bollards and certain types of housing tanks.
Conductive Polystyrene: Easily formable material, has many applications because of its conductivity. Used for component trays, packaging for circuit boards and disc drive components.
Acrylic: Used in retail and signage for POS and molded signs. Wide choice of colors and finishes.
PC – Polycarbonate: Suitable for lighting fixtures, signage, display products, guards and medical equipment parts. With careful development, parts with crystal clear clarity can be achieved.
PETG: A tough material, available in a wide range of thicknesses. Chemical resistant and easy to form. Very versatile material ideal for display POS, graphic displays, product covers, housings and glazing.
APET: High impact resistant, suitable for food stuffs, chemical resistant and easy to form. Ideal for POS, graphic displays and light industrial applications such as trays and covers.
Kydex: An extremely tough and durable material available in a wide range of colors and finishes. Used extensively in shop fitting, transit interiors including aviation, medical devices and component housings.
Techniques:
Mold Design and Manufacturing:
Molds for this process can be made from a variety of substrates. The key to a successful vacuum form is to design parts with zero overhangs, and ideally with drafted surfaces to reduce the likelihood of the part sticking within the formed plastic. The mold itself can be made from a variety of materials: Wood, machined or hand-formed plastics (so long as they do not melt when engaged with the molten plastic sheet), 3D printed plastics, metals, etc. So long as the material can sustain elevated temperatures for ~1 minute without deflecting, and the forces associated with the sheet being conformed under vacuum force, it should work.
Trimming:
One technique that can be used for trimming parts (so long as safety conditions for the machine are met, and the part doesn't exceed the working volume of the machine) is to laser cut the perimeter of a vacuum formed sheet to extract the desired part. Alternatively, shears or a rotary cutting tool can be used.
Edge Finishing:
In many cases, heat can be applied to rough-cut edges of vacuum formed parts (typically via reflow soldering station) to give parts a more finished appearance, and smoother edge.
Imbedded Metals, other Materials:
An advanced technique that TEAM has used in the past to add strength to vacuum formed parts is to capture metal (often laser cut) within one or more sheets of vacuum-formed plastic.
Safety:
Only use polymers that are safe for this process. Consult with the TEAM lab manager before ordering materials if you plan to try an exotic material or technique.
Technical Specifications: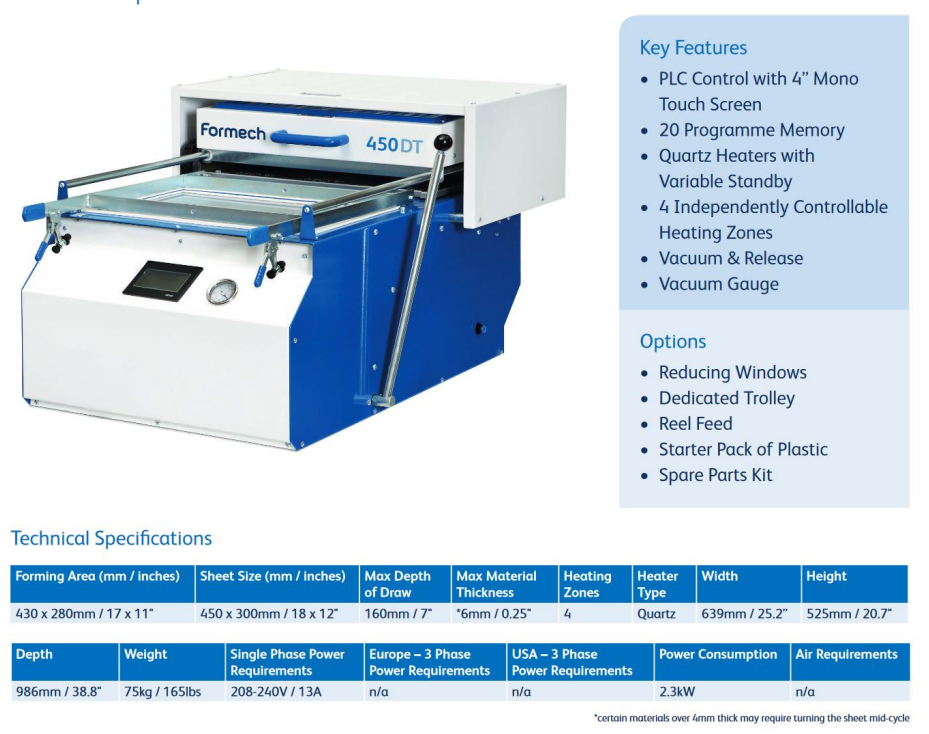 Example:
The following series of images depict the process (captured from video on Formech Website)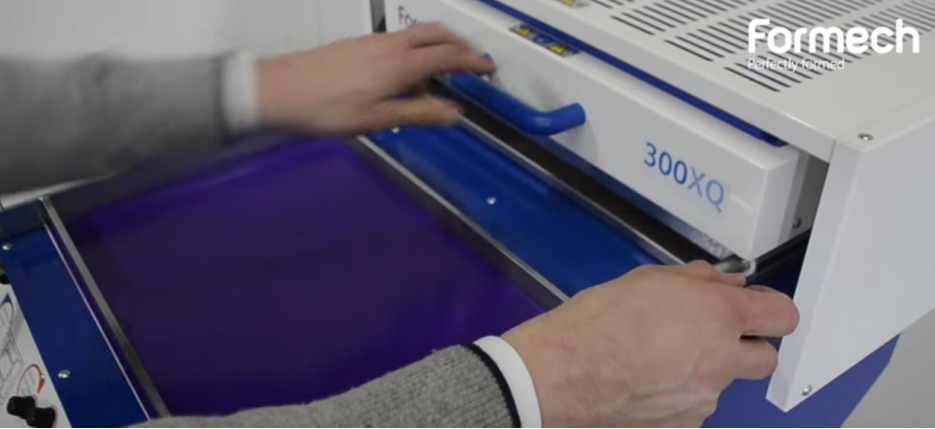 Figure 3: Step1: Sheet of Plastic Mounted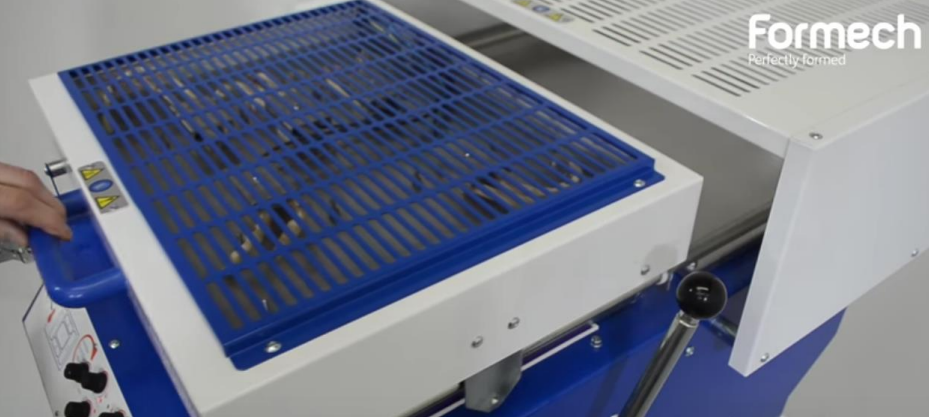 Figure 4: Step 2: Heat is Applied to Soften the Plastic 
Figure 5: Step 3: Heat is Removed, and the Mold is Pushed Through the Sheet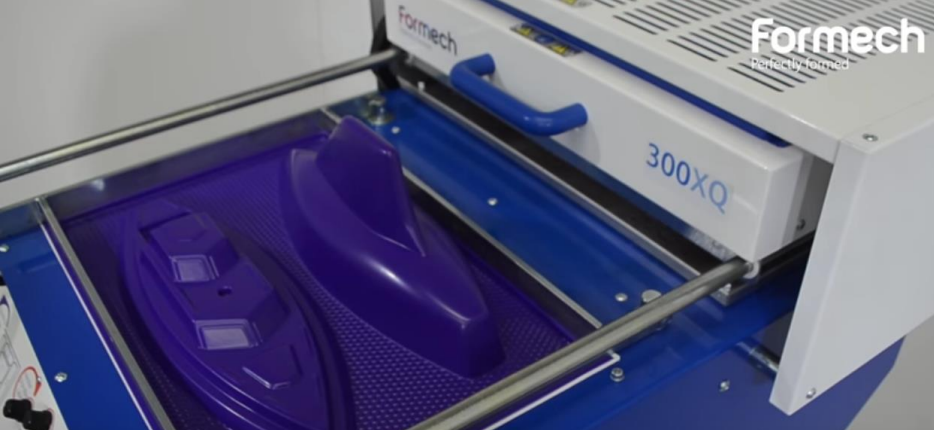 Figure 6: Step 4: Vacuum is Applied, the Sheet Conforms to the Mold and Cools
Sources and Resources:
Website: http://formech.com/
How to Leverage this Technology
External Resources